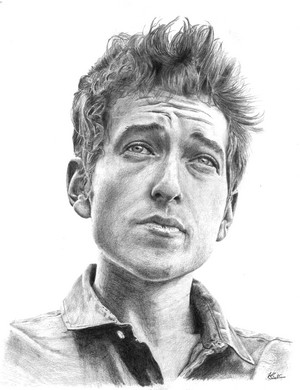 Bob Dylan
Depuis ses débuts dans les années 1960, Bob Dylan a, par ses textes et par sa recherche de voies nouvelles (à l'encontre de son public parfois), sensiblement marqué la culture musicale contemporaine : en témoignent les nombreux artistes qui se réclament de son influence (David Bowie, Jeff Buckley, Tom Waits, Elvis Costello, etc.), ou le vaste répertoire des chansons qu'il a composées, dans lequel puisent des musiciens de tous les horizons et de toutes les générations (Elvis Presley, The Beatles, Mark Knopfler, Neil Young, U2, P.J. Harvey, The White Stripes, Syd Barrett, Guns N' Roses, Jimi Hendrix etc.).
• Since his beginnings in the 1960s, Bob Dylan, for his texts and his search for new ways (contrary to his audiance sometimes), significantly influenced the contemporary musical culture: witness the many artists who claim to his influences (David Bowie, Jeff Buckley, Tom Waits, Elvis Costello, etc..), or the vast repertoire of songs he composed, which draws musicians from all backgrounds and all generations (Elvis Presley, The Beatles , Mark Knopfler, Neil Young, U2, PJ Harvey, The White Stripes, Syd Barrett, Guns N 'Roses, Jimi Hendrix etc..).

Nana et Dylan
Le 10 septembre 1979, Nana chante au Greek Theater de Los Angeles. Léonard Cohen, habitant Montréal, assiste toujours aux concerts de Nana. C'est ce soir-là qu'il vient dans la loge de Nana, avant le concert, avec Bob Dylan. Il explique à Nana que Bob Dylan ne la connaît pas, aimerait beaucoup assister au concert mais qu'il a rendez-vous pour une interview avec des journalistes ce soir-là. Nana lui remet son dernier disque "Roses and sunshine", lui explique la place qu'il tient dans son univers musical, lui parle de sa chanson "Le ciel est noir"… Ils se fixent rendez vous après le concert dans un petit restaurant de Los Angeles.
• On 10 September 1979, Nana sings in Greek Theater in Los Angeles. Leonard Cohen, a resident of Montreal, always goes to Nana's concerts. This evening, he comes in Nana's dressing room before the concert, with Bob Dylan. He explains to Nana that Bob Dylan does not know her, would love to see the concert but had an appointment for an interview with journalists this evening. Nana gives him her latest album "Roses and sunshine," explains him the place he has in her musical world, talks him about his song "Le ciel est noir" … They set an appointment after the concert in a small restaurant in Los Angeles.
Le concert commence et Nana quitte la scène quelques minutes au moment de l'entracte. Dylan est resté dans les coullisses pour l'entendre chanter, il veut échanger, lui parler, la découvrir mais il faut reprendre le concert… Nana chante "Le ciel est noir" et la soirée se termine. A la fin du concert, Nana retrouve Bob Dylan au même endroit, il a décalé son interview pour entendre tout le concert…
Il lui dit ne pas avoir aimé sa façon de chanter "le ciel est noir", tant leur façon de chanter est différente… ils se retrouvent plus tard au restaurant comme convenu et Dylan, surexcité, veut connaître les influences musicales de Nana : ils evoquent Callas, Ella Fitzgerald, Oum Kalsoum…
• The concert began and Nana left the scene a few minutes during the intermission. Dylan remained here to hear her sing, he wants to share feelings, talk to her, discover her but she have to resume the concert … Nana sings "Le ciel est noir" and the evening ends. At the end of the concert, Nana finds Bob Dylan in the same place, he shifted his interview to hear the whole concert … He claims he did not like much her way of singing "Le ciel est noir", as their way of singing is so different … they met later in a restaurant as agreed and Dylan, excited, wants to know the musical influences of Nana: They evoke Callas, Ella Fitzgerald, Oum Kalsoum …
Quelques jours plus tard, Dylan dira dans une interview à "Rolling Stones" : "Mes chanteuses préférées sont Nana Mouskouri et Oum Kalsoum !". Très peu de temps après, Dylan appelle Nana pour lui offrir une chanson qu'il vient d'écrire, et qui, selon lui, lui ressemble. Il s'agit de "Every grain of Sand"…
• A few days later, Dylan said in an interview with "Rolling Stones": "My favorite singers are Nana Mouskouri and Oum Kalsoum." Shortly after, Dylan called Nana to offer her a song he has just written and which, according to him, is just like her. This is "Every Grain of Sand" …
Par la suite, les deux artistes se suivront de plus ou moins loin, leurs modes de vie, leur mode de travail et leur culture étant assez peu compatibles. Nana reste très influencée par Bob Dylan, dont elle chantera ou adaptera plusieurs autres chansons, de façon toujours très personnelle et magistrale. Nana dira en 2008, lors de sa tournée d'adieu, dans un entretien en Allemagne, repris par l'AFP, qu'elle échange des e-mails avec Dylan, même s'il ne lui répond pas aussi souvent qu'elle le souhaiterait… En 2018, son album "Forever Young" a été inspiré par la chanson de Dylan...
• Thereafter, the two artists will follow eachother more or less farly, their lifestyles, their way to work and their culture are not very compatible. Nana is very influenced by Bob Dylan, and sings or adapts several other songs, in a very personal way, with style. Nana said in 2008, during her farewell tour, in an interview in Germany, taken by AFP, that she exchanges e-mails with Dylan, even if he does not reply as often as she would like ... In 2018, the album "Forever Young" was inspired by the song of Dylan ...
Every Grain of Sand
In the time of my confession / In the hour of my deepest need
When the pool of tears beneath my feet / Flood every newborn seed
There's a dyin' voice within me / Reaching out somewhere
Toiling in the danger / And in the morals of despair

Don't have the inclination / To look back on any mistake
Like Cain, I now behold this chain / Of events that I must break
In the fury of the moment / I see the Master's hand
In every leaf that trembles / In every grain of sand

Oh, the flowers of indulgence / And the weeds of yesteryear
Like criminals, they have choked the breath / Of conscience and good cheer
The sun beat down upon the steps / Of time to light the way
To ease the pain of idleness / And the memory of decay
I gaze into the doorway / Of temptation's angry flame
And every time I pass that way / I always hear my name
Then onward in my journey / I come to understand
That every hair is numbered / Like every grain of sand

I have gone from rags to riches / In the sorrow of the night
In the violence of a summer's dream / In the chill of a wintry light
In the bitter dance of loneliness / Fading into space
In the broken mirror of innocence / On each forgotten face

I hear the ancient footsteps / Like the motion of the sea
Sometimes I turn there's someone there / Other times it's only me
I am hanging in the balance / Of a perfect finished plan
Like every sparrow falling / Like every grain of sand
→ Traduction française possible sur ce lien
Dignity
Fat man lookin' in a blade of steel / Thin man lookin' at his last meal
Hollow man lookin' in a cottonfield / For dignity
Wise man lookin' in a blade of grass / Young man lookin' in the shadows that pass
Poor man lookin' through painted glass / For dignity

Somebody got murdered on New Year's Eve / Somebody said dignity was the first to leave
I went into the city, went into the town / Went into the land of the midnight sun
Searchin' high, searchin' low / Searchin' everywhere I know
Askin' the cops wherever I go / Have you seen dignity

Blind man breakin' out of a trance, / Puts both his hands in the pocket of chance
Hopin' to find one circumstance / Of dignity
I went to the wedding of Mary-Lou / She said I don't want nobody see me talkin to you
Said she could get killed if she told me what she knew / About dignity

I went down where the vultures feed / I would've gone deeper, but there wasn't any need
Heard the tongues of angels and the tongues of men / Wasn't any difference to me
Chilly wind sharp as a razor blade / House on fire, debts unpaid
Gonna stand at the window, gonna ask the maid / Have you seen dignity

Drinkin' man listens to the voice he hears / In a crowded room full of covered up mirrors
Lookin' into the lost forgotten years / For dignity
Met Prince Phillip at the home of the blues / Said he'd give me information if his name wasn't used
He wanted money up front, said he was abused / By dignity
Footprints runnin' cross the silver sand / Steps goin' down into tatoo land
I met the sons of darkness and the sons of light / In the bordertowns of despair
Got no place to fade, got no coat / I'm on the rollin' river in a jerkin' boat
Tryin' to read a note somebody wrote / About dignity

Sick man lookin' for the doctor's cure / Lookin' at his hands for the lines that were
And into every masterpiece of literature / For dignity
Englishman stranded in the blackheart wind / Combin his hair back his future looks thin
Bites the bullet and he looks within / For dignity

Someone showed me a picture and I just laughed / Dignity never been photographed
I went into the red, I went into the black / Into the valley of dry bone dreams
So many roads, so much at stake, so many dead ends / I'm at the edge of the lake
Sometimes I wonder what it's gonna take / To find dignity
→ Traduction française possible sur ce lien
Bob Dylan par Nana Mouskouri
Farewell Angelina
- Adieu Angelina (FR)
1967 Le jour où la colombe… (Mercury 980 048-5)
2011 Rendez-vous (Mercury 2788371) (with Roch Voisine)
- Schlaf ein Angelina (DE)
1975 Sieben schwarze Rosen (Philips 838 841-2)
Love Minus Zero/No Limit
1969 The white rose of Athens (Mercury 983 236-4)
- Amour moins zero (FR)
1969 Dans le soleil...et dans le vent (Mercury 980 048-7)
Farewell
1971 A place in my heart (Mercury 983 236-5)
A Hard Rain's A-Gonna Fall
- Le ciel est noir (FR)
2011 Rendez-vous (Mercury 2788371) (with Garou)
2006 Live in Berlin "Ich hab gelacht - Ich hab geweint" DVD (Universal 60251702429)
2012 Live at the Royal Albert Hall - 2007 DVD (Universal 372 302-9)
1974 Au Théâtre des Champs-Elysées LP (Fontana 6325 327)
1979 À Paris (Philips 6641.919)
2007 Les 50 plus belles chansons (Mercury 530 259-2) (studio version)
Tomorrow Is A Long Time
1979 Roses Love sunshine (Mercury 983 236-9)
Every Grain Of Sand
1982 The rose (Mercury 983 237-0)
- Jedes Körnchen Sand (DE)
1981 Meine Lieder sind mein Leben (Electrola 06007 5362550)
I'll Remember You
1987 Only Love (Mercury 983 237-2)
2006 Live in Berlin "Ich hab gelacht - Ich hab geweint" DVD (Universal 60251702429)
2012 Live at the Royal Albert Hall - 2007 DVD (Universal 372 302-9)
Dignity
1997 Songs for you (Mercury 983 237-3)
To Make You Feel My Love
2000 Songs for you (Mercury 983 237-3) (with Stig Rossen)
Forever Young
2018 Forever Young (Mercury 672 623-1)

Wallflower
2018 Forever Young (Mercury 672 623-1)
2021 : Every grain of sand - Nana Mouskouri sings Bob Dylan
Every Grain Of Sand
Adieu Angelina
Love Minus Zero - No Limit
Tomorrow Is A Long Time
Le ciel est noir
Farewell
I'll Remember You
Wallflower
To Make You Feel My Love
Amour moins zéro
Forever Young
Dignity
Jedes Körnchen Sand
Playlist

Sources : https://fr.wikipedia.org/wiki/Bob_Dylan
http://www.examiner.com/article/dylan-birthday-countdown-no-36-nana-mouskouri-and-email-pal-dylan
http://www.bobdylan-fr.com
Playlist : mp3, 44100 Hz, 96 bps, mono (radio quality)
Artwork : Kevin329 @devianart.com / Marc-Antoine Coulon
@ PhB, 13 août 2016 upd. 29 Mai 2021