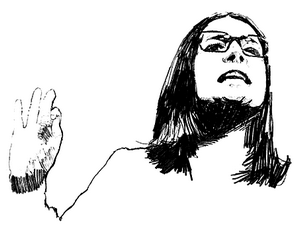 Ecouter la playlist de Nana, des extraits de 26 albums enregistrés entre 1988 et 2008...
• Listen to the Nana playlist, extracted from 26 albums recorded from 1988 to 2008...
Cette sélection (mp3, qualité radio) nous permet de retrouver l'ampleur de la diversité des styles des chansons interprétées par Nana Mouskouri, la grande modulation de sa voix, qui lui permet avec une facilité (apparente) de passer d'un air de jazz, de gospel, de bossa-nova à un aria classique, une chanson française à texte ou une comptine de Noël... Elle chante ainsi dans de nombreuses langues, parfois même elle vocalise... Nana se définie comme une "éponge" musicale. Elle sait à la fois tout interpréter dans le plus grand respect des auteurs, et tout "mettre à sa sauce" pour nous faire entrer dans univers musical unique.
• This selection (mp3, radio quality) allow us to realise the style diversity extent of Nana Mouskouri's songs, the great modulation of her voice, which allow her to sing, with (apparent) ease, an air of jazz, gospel, bossa-nova or a classic aria, a French song or a Christmas rhyme... She sings in many languages, sometimes she only vocalizes ... Nana defined herself as a musical "sponge". She knows how to interpret everything with the greatest respect for authors, and in the same time to "make her own sauce" to bring us into her unique musical universe.
Playlist
Elle n'est pas chanteuse,
Elle est la musique
Passant avec une aisance déconcertante de la mélodie la plus sinueuse au refrain populaire le plus facile et par tous les rythmes de notre époque
Elle est née pour chanter
Elle
Nana la merveilleuse, "La Mouskouri"
Souvent je me demande : "Qu'aurait fait la musique si elle n'existait pas ?"

She is not a singer, She is music, Moving with disconcerting ease form the most sinuous melody to the easiest pop chorus via all the rhythms of our times, She was born to sing, She, Nana the marvellous, "La Mouskouri".
I often wonder : "What would the music have done if she did not exist?"

Charles Aznavour
Artwork : Nana Mouskouri
© PhB, 26 janv. 2016